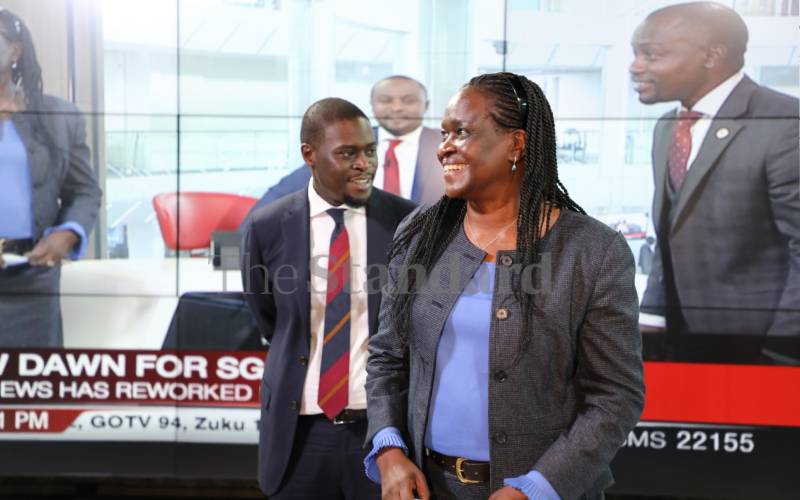 Koimett: As the media embraces the paywall, remember that citizens need access to vital information
Kenyan media that embrace paywalls and paid content should consider vital information to be everyone's right.
Broadcasting and Telecommunications PS Esther Koimett said "the media should not stand on the fence".
Over the past two years, the Standard Group has implemented a transformation program aimed at making its operations relevant to the fast-paced, digital information and communication market, which is not only beneficial to the public. , but makes journalists versatile across platforms. .
With advertising budgets reduced by most businesses due to the pandemic, news houses such as Standard Group have adopted the paywall which allows readers to access premium articles on websites at a cost.
Although the system is new to the Kenyan media, the launch in recent months has yielded positive results with a good number of Kenyans slowly adopting it.
"Throughout history, independent media, especially in our environment, have been funded by private enterprise. Now we have to think about the future, "Ochieng Rapuro, editor-in-chief of Standard Group, said at a past event.
Kenyan media have been invited to take their rightful place by channeling conversations that help the public make informed decisions.
She noted with concern the tabloid journalism and what she described as the misuse of online platforms.
Koimett spoke in the Converging Newsroom of the Standard Group during the relaunch of KTN News.
The PS recognized the media as an agent of political and social development.
She urged organizations to monitor government but also to practice balanced reporting.
Koimett praised the electronic media for providing free public service announcements, as seen at the start of the Covid-19 pandemic. "There is still more to do. "
Regarding infrastructure, the PS said the government had played its role in preparing to transform the media.
She cited fiber optic cables to promote rapid dissemination of knowledge and improve access to services.
The role of the media in the democratization process will go a long way in supporting good governance.
Koimett called on the media to represent the issues and the facts to create a positive perception of the country.
The ministry is keen to work with the Kenya Media Council to review policies and create an enabling environment for practitioners.
Regarding the challenge of loss of jobs and income, CS said the media must find new ways of doing business.
She said the ministry was particularly ready to support local media.