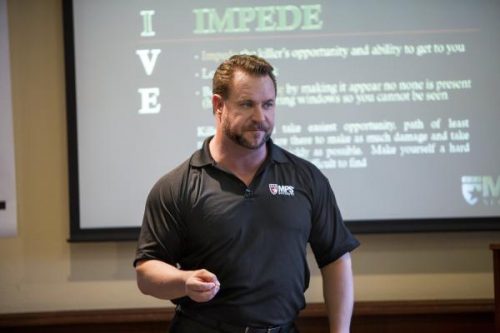 One Hour Online Shooter Survival Training / Effective Security Measures Course Updated
ALIVE Active Shooter Survival Training Program, a US-based specialty school focused on survival training, has updated its online courses to help individuals prepare for a shootout.
Murrieta, United States – February 2, 2022 —
The school's recently updated courses are designed to give individuals proper instruction on how to react in the presence of an active shooter. With the instruction offered, students will not have to worry about what to do in the face of danger as the most effective and safest methods will be revealed.
More information can be found at https://training.activeshootersurvivaltraining.com
The newly updated ALIVE Active Shooter Survival Training Program online courses will teach students to identify the warning signs of impending violence, understand why assailants are attacking, and take appropriate action to stay alive. Students will find four different courses to choose from depending on their desired length of study.
Students can register for the accelerated course "The 5 steps of the ALIVE course" which lasts one hour. One of the many benefits of joining the course is that the student will gain the confidence they need to react quickly without freezing. Instead of feeling hopeless, they will learn to feel empowered and even determined to help others around them.
The school's ALIVE Power Course is two hours long and will cover everything mentioned in the previous course. Additionally, students will learn how to recognize upcoming acts of violence, develop a survival mindset, and become proactively responsive.
"Surviving an Active Shooter Using the Complete ALIVE Course" takes three hours and covers everything the other two courses have to offer. In addition, the student will have access to practical exercises that he can do alongside his family. All courses include an exam and a certificate at the end.
ALIVE Active Shooter Survival Training Program was created by Michael Julian. He is a Certified Professional Investigator, President of National Business Investigations, Personal Protection Specialist, and Certified Security Professional.
A satisfied student said: "Unfortunately we need active shooter training, and everyone should have it. If you're going to get this type of training, you better get great training from someone passionate who knows what he's talking about. Michael really steps up the game with the structure and flow of content. I received all the knowledge and support necessary to be safe in what I was taught.
Interested parties can find more information by visiting https://training.activeshootersurvivaltraining.com
Contact information:
Name: Michel Julien
Email: Send Email
Organization: ALIVE Active Shooter Survival Training Program
Address: 25020 Las Brisas Road, Murrieta, CA 92562, USA
Phone: +1-833-992-5483
Website: https://activeshootersurvivaltraining.com/
Build ID: 89061674
COMTEX_401628924/2773/2022-02-02T08:00:36