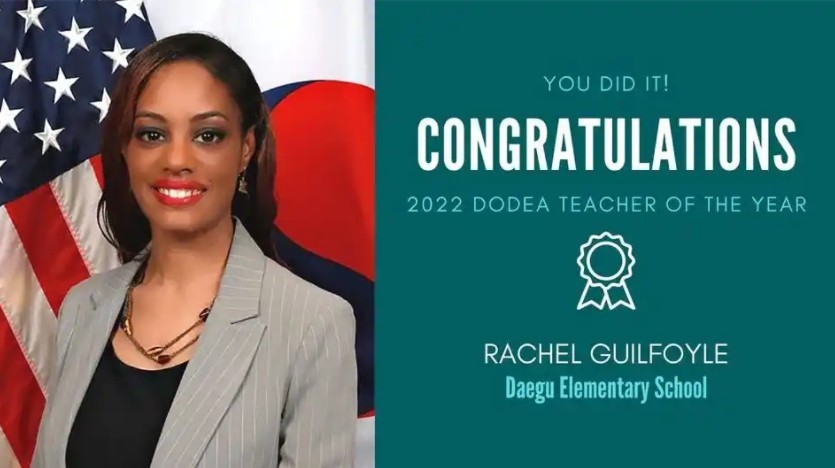 USAG Daegu Joins District Officials Recognizing Educator for 2022 DoDEA Teacher of the Year Award | Item
CAMP WALKER, Republic of Korea – USAG Daegu joined district officials, teachers and staff recognizing Daegu Elementary School teacher, Ms. Rachel Guilfoyle, in receiving the Teacher's Award from the Department of Defense Education (DoDEA) year 2022 on March 17.
Ms. Guilfoyle is a 5th grade teacher and exemplary leader at Daegu Elementary School. She is co-chair of the school's SQF team, chair of the fifth-grade level, and a member of the Higher Education and Gifted Committee. She taught at DoDEA for over a decade in South Korea.
"Ms. Guilfoyle embodies student-centered learning and inclusiveness," said DoDEA Director, Mr. Thomas M. Brady. of student excellence. His work with the Daegu Elementary School Living Museum Project has helped set a new benchmark in expanding cultural responsiveness, diversity, and awareness while fostering purposeful learning in a broader academic environment. I am very pleased to announce that Ms. Rachel Guilfoyle is the 2022 Teacher of the Year."
Ms. Guilfoyle understands the needs of military-related students, as she was a military child, military survivor spouse, Gold Star family member, and mother of DoDEA students. Prior to joining DoDEA, she served as Executive Assistant for the Houston Arts Alliance (HAA) and facilitated the opening of HAA's Integrated Art Community Learning Space. Ms. Guilfoyle believes that learning can happen anytime and anywhere and encourages her students to embrace this belief.
Ms. Guilfoyle is the epitome of a lifelong learner. She enjoys learning and sharing learning experiences with people from all backgrounds and demographics. Rachel participates in a number of professional learning communities and other learning platforms within and outside of DoDEA. Guilfoyle took a class to better understand the needs of children during COVID, as well as classes on understanding slave history. Ms. Guilfoyle views the lack of opportunity as a public issue that she has addressed inside and outside the classroom. Her approach to connecting with real-life students, showing students how to access prior knowledge, and taking a broader cultural approach to DoDEA's CLS, strengthened student identity, activated their critical thinking, and bridged knowledge gaps. opportunities for its students.
"I am humbled and honored to have been selected as DODEA 2022 Teacher of the Year," Ms Guilfoyle said. "I believe that education is not a static process; it is dynamic, challenging, engaging, lifelong and personal. Education requires self-reflection to achieve the highest standards of excellence to facilitate growth and change. I would like to thank my family, colleagues, administration, Pacific West District, and military-related students and parents for their support and encouragement. I look forward to representing the Pacific West District and DODEA in 2022."
Ms. Guilfoyle has a bachelor's degree in education from Macon State College, a master's degree in literacy from Walden University, and is currently working on her bachelor's degree in library science from the University of Arizona.
Along with public recognition and the award, Ms. Guilfoyle will be admitted to the National Teacher of the Year (NTOY) nomination pool and will be recognized by the President (pending scheduling) at a future event at the White House. Ms. Guilfoyle will also attend the NTOY conference and participate in Teacher of the Year events sponsored by the Council of Chief of State School Officers (CCSSO).
DoDEA plans, directs, coordinates, and administers K-12 education programs for school-aged children of Department of Defense personnel who otherwise would not have access to a high-quality public education . DoDEA schools are located in Europe, the Pacific, West Asia, the Middle East, Cuba, the United States, Guam, and Puerto Rico. DoDEA also provides support and resources to local educational activities across the United States that serve children of military families.
USAG Daegu is committed to being a location of choice and making the facilities great places to live and work by providing an excellent quality of life and programs to military communities.